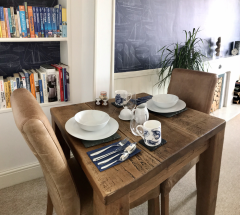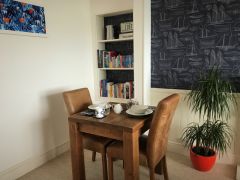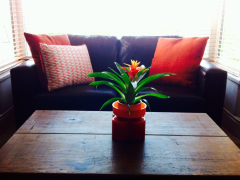 We pride ourselves on our breakfast. Your host worked as a professional chef for many years and has the skills to provide you with a perfect start to the day! We source our bacon, sausages and puddings from Vivian Olds of St Just, a Cornish family butcher that has been trading for over 100 years. Our eggs are all free-range from Rosedown Farm and our tea, hot chocolate and sugar are all Fairtrade.
Breakfast:
Granola, yogurt, fruit, honey
Waffle, yogurt, fruit, cherry compote
Toasts and cereals
Tea and coffee
Cornish: Bacon, hoggs pudding, mushrooms, tomato, egg, toast
Vegetarian: Sausage, beans, mushrooms, tomato, egg, toast
French Toast: Brioche, bacon, cinnamon, maple syrup
Smoked salmon: Scrambled or poached eggs on toast
Oystercatcher Smokey: Cornish smoked haddock, hollandaise, brioche, poached egg
Eggs Benedict, Eggs Royale, Eggs Florentine
Please advise us of any dietary requirements.
Our breakfast starts at 8.30am and you can order cooked breakfast up to 9.15am, otherwise cereal, toast, tea and coffee are available until 10am.